Scientists, like almost everyone else, were forced to accept a new normal in 2020. We found ourselves sharing workspaces with our remote-learning children. Traveling much less often, as movement restrictions rendered certain projects downright unfeasible. And collaborating with colleagues virtually, rather than face-to-face—which meant missing some critically productive (and usually enjoyable) aspects of our work. But sustainability couldn't wait for the old normal to return. We had to keep progressing, one way or another.
So we pressed on, altering our tactics to fit conditions beyond our control. My team's mission was to discover best practices for an urgent change in fishing gear: the biodegradable fish aggregating device, or bio-FAD. (FADs are floating objects designed to encourage fish to congregate nearby. They're effective tools for commercial tuna fishing, but, traditionally, they are made of plastics and netting, and can have negative ecosystem impacts.)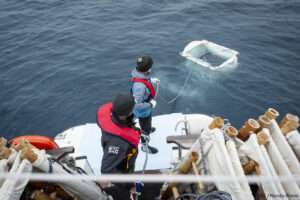 ISSF's scientists and research partners had planned bio-FAD-focused cruises spanning 2020 and 2021. The goal was to identify organic and biodegradable materials for FADs that would last at sea as long as fishers needed them to—but no longer. Let me highlight some of the results we achieved in 2020, despite the quarantine.
Deployment
Keep in mind that developing innovative FAD designs is only half the battle. New concepts have to be tested in fishing situations. And deploying them for scientific trials, around the globe, is never a simple feat.
In 2020, in the Micronesian state of Pohnpei, our project scientists coordinated with the Caroline Fisheries Corp. fleet to deploy 100 bio-FADs in the western Pacific. By August, we had data crucial to evaluating the performance of bio-FADs versus traditional FADs across an extensive region in the Western Pacific Ocean.
Also last year, bio-FAD deployment in Ghana rose from 10 to 108 devices, in a project funded by the Common Oceans ABNJ Tuna project and ISSF.
Overall, fleets in three tropical oceans are now testing new bio-FAD designs as part of an ISSF-led push to move away from FADs that are made from plastic material. Data from these pilot projects will help scientists compare bio- and traditional FAD performance in all oceans.
Innovation and Outreach
Some of our most exciting work in 2020 centered on "jelly-FADs"—bio-FADs that we designed in collaboration with a team of physical oceanographers. Jelly-FADs are made of organic materials and are smaller than traditional models, yet they drift slowly, like jellyfish, so ocean currents are less likely to carry them too far afield. Both of those qualities will reduce their environmental impact, if they are lost or abandoned.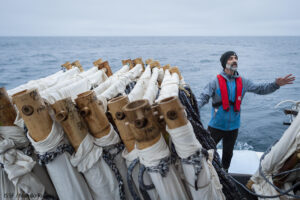 In December, I collaborated online with the Institute de Cienciès del Mar in Barcelona to develop this innovative bioFAD design and test it in Mediterranean waters, away from fishing fleets, to allow us to monitor the devices undisturbed. So far, our trials look promising in terms of durability, tuna-aggregating effectiveness, and location control. If the results continue to be positive, the next step for the Jelly-FAD will be fleet trials at sea.
What's Next
Even innovations like jelly-FADs alone won't get us where we need to be—universal adoption of non-entangling and bio- or organic FADs—without advocacy and outreach. Ultimately, success depends on our ability to educate and persuade both regional fishery management organizations (RFMOs) and individual fishers. We must convince RFMOs that conservation measures requiring bio-FADs are essential, starting now. And we must get through to the individual fishers that still cling to their decades-old designs.
In 2020, friendly in-person exchanges yielded to virtual meetings. But even from afar, we listened, learned and made our case in every available medium, just as we will in 2021—until and after the pandemic passes. Because the stakes are too high to let this virus shut sustainability science down.