Through certification, the Marine Stewardship Council acknowledges those select fisheries that meet its sustainable fishing benchmarks. MSC published an updated Fisheries Standard (version 3.0) in October 2022.
If more fisheries worldwide become capable of meeting MSC's fishery and chain-of-custody standards, the global seafood supply chain will become more traceable and sustainable.
ISSF's 5-Year Goal & the MSC Fisheries Standard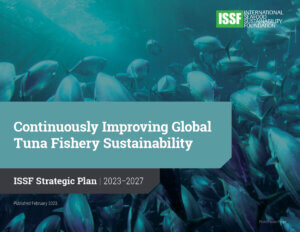 ISSF's new strategic plan objective is that by the end of 2027, all tuna fisheries from which ISSF participating companies source can:
Meet and maintain the Marine Stewardship Council (MSC) certification standard*
OR
There is a clear roadmap and timetable in place to meet this standard that is underpinned by the best-available science.
*ISSF will seek to achieve conformance with MSC's then-current performance indicators at an 80 score level, which is sufficient for certification of a fishery without conditions.