Transshipment is the process of transferring fish or fish products at sea or in port — from one fishing vessel to another fishing vessel, or to a cargo vessel for further transport.
In many fisheries, transshipment is common. By tonnage, for example, tuna is the third-largest catch worldwide to be transshipped at sea.
But transshipment activities can complicate the collection and documentation of catch data as well as the traceability of seafood products as they move across vessels and through the supply chain.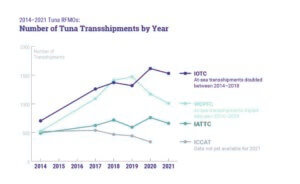 Unscrupulous vessels also use transshipment to mask their illegal, unreported, and unregulated (IUU) fishing.
For these and other reasons, tuna Regional Fisheries Management Organizations (RFMOs) generally permit transshipment only under limited conditions. RFMOs require transshipments to be observed, and vessel data submitted to RFMO science bodies must include information about transshipments.
Transshipment & Sustainable Fisheries
Scroll through our new interactive Web feature to learn why at-sea transshipment continues to be a "hot-button" issue in sustainable tuna fishing — and what stakeholders can do to push for smarter regulations (or prohibitions) and better oversight in all oceans.
OUR CONTRIBUTIONS
RFMO Benchmarking
In our snapshot series, we analyze each tuna RFMO's transshipment regulations for fishing vessels — noting where their policies and oversight fall short of or align with best practices. Our transshipment spotlight, for example, examines observer coverage, data collection, authorizations, and more.
We also produce a high-level "scorecard" showing which RFMOs are leaders or laggards on critical sustainable-fishing issues.
RELATED RESOURCES
RELATED NEWS